Unsere Sprachschule South Beach Languages wurde im Jahr 2003 gegründet und befindet sich nur wenige Meter vom Meer entfernt. Seit 2003 haben wir über 5000 Studenten aus über 100 Ländern unterrichtet. Unsere Lehrer und Mitarbeiter versuchen jeden Tag den Studentenwünschen gerecht zu werden.
Unser Ziel ist es, auf die individuellen Bedürfnisse der Schüler einzugehen, indem wir außergewöhnliche Programme, Lehrer und Freizeitveranstaltungen  in einer einzigartigen Umgebung anbieten.
In unseren Sprachkursen legen wir Wert auf die Verbesserung ihrer Kommunikationsstärke für ihre akademische, soziale und berufliche Entwicklung.
Warum South Beach Languages?
Lehrer: Erfahrene, diplomierte, dynamische Lehrer, Muttersprache ist Englisch.
Akademisch: Der Fortschritt des Studenten wird anhand von Hausaufgaben, wöchentliche Tests, Aufsätzen und Präsentationen kontrolliert.
Stundenplan:  Du kannst zwischen Vormittag, Nachmittag oder Abend wählen.
Standort: Lerne Englisch in unserem 2-stöckigem Schulhaus im berühmten South Beach oder 30 Minuten nördlicher im trendigem Hollywood, Florida.
Preise: Intensiv English Program (18 Stunden/Woche) ab $399/Monat.
Persönliche Betreuung: Wir helfen Dir bei allen Fragen betreffend Studium, Unterbringung oder Visa.
Unsere Communicative Language Teaching (CLT) legt vor allem Wert auf 'learning by doing'.
Studenten lernen Konversation, Grammatik, Wortschatz und andere Fähigkeiten durch Zusammenhänge.
Studenten lernen mit Muttersprachler.
Studenten reden mit den Lehrer, Schulkameraden und unseren Mitarbeitern nur Englisch.
Studenten nehmen an Gruppenaktivitäten teil.
Lehrer kombinieren das Lernen mit praktischen Übungen ausserhalb des Klassenraums.
Welcome from the Director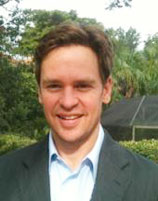 I had an all-American childhood living in Chicago, New Jersey and Florida. After college, I had the opportunity to teach English in Latin America, Europe and Asia.
In 2003, I started SBL in Miami Beach with 1 room and 1 student.
His name was Mauricio. He needed to practice English conversation for a job interview at a hotel in Miami Beach. I offered him a coffee and peppered him with questions. He called later saying 'I got the job'!
We have taught thousands of students in the 15+ years since Mauricio, but it has always been our mission to focus on individual student's needs. And we still offer free coffee.
Join us and let SBL be your 'home away from home'!
  Greg D.
Our mission is to meet individual student needs by providing exceptional programs, instructors and activities within a diverse, immersion environment.  Our language classes emphasize communication for academic, social and professional development.