Welcome from the Director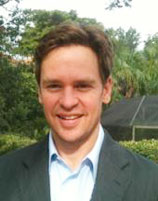 I had an all-American childhood living in Chicago, New Jersey and Florida. After college, I had the opportunity to teach English in Latin America, Europe and Asia.
In 2003, I started SBL in Miami Beach with 1 room and 1 student.
His name was Mauricio. He needed to practice English conversation for a job interview at a hotel in Miami Beach. I offered him a coffee and peppered him with questions. He called later saying 'I got the job'!
We have taught thousands of students in the 15+ years since Mauricio, but it has always been our mission to focus on individual student's needs. And we still offer free coffee.
Join us and let SBL be your 'home away from home'!  Greg D.
Our mission is to meet individual student needs by providing exceptional programs, instructors and activities within a diverse, immersion environment.  Our language classes emphasize communication for academic, social and professional development.
Teachers: Experienced, certified, dynamic teachers coach students through the learning process.
Academics: Student progress is continuously measured through homework, quizzes, written essays, verbal presentations.
Schedules:  Choose a morning, afternoon or evening option.
Locations: Learn English in world famous South Beach or 30 minutes north in trendy Hollywood, Florida.
Prices: Intensive (18 hours per week) English classes starting at $399/month.
Personal Attention: Offering customized assistance for your academic, housing and visa needs.
Our Communicative Language Teaching (CLT) emphasizes interaction and 'learning by doing' as the means and the goal of learning a language.With our CLT learning approach:
Students learn conversation, grammar, vocabulary and other skills through context.
Students learn by immersion, studying English with native English speakers.
Students communicate with their teachers, classmates and staff using English Only.
Students participate in group activities that focus on English collaboration, critical thinking and creativity.
Teachers connect classroom learning with practical, real-life activities outside of the classroom.
Teachers leverage the latest online tools and technologies to accelerate student acquisition of English.