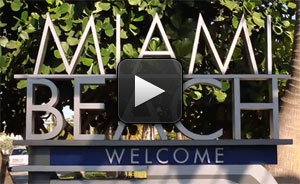 South Beach Languages, founded in 2003, is located 1 block from the ocean in the best part of Miami Beach.  We offer group,  individual and corporate classes in English or Spanish.
Our mission is to meet individual student needs by providing exceptional programs, instructors and activities within a unique, immersion environment.
Our language classes emphasize communication for academic, social and professional development.
Our native-speaker teachers are dynamic and experienced.  We understand that your teacher is the most important element of your learning experience, so we recruit the best language teachers available.
Regardless of your nationality, age or schedule, come visit us in Miami Beach, and let our teachers take you to fluency!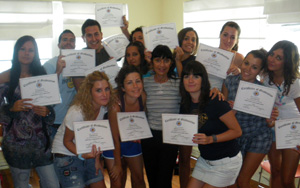 Our Communicative Language Teaching (CLT) emphasizes interaction as the means and the goal of learning a language.
With our CLT learning approach:
Students learn grammar, vocabulary and other skills through context.
Students learn by 'immersion', studying English with native English speakers (or Spanish with native Spanish speakers).
Students must communicate with their teachers and classmates in target language.
Lessons include pair or group activities.
Teachers connect classroom learning with practical activities outside of the classroom.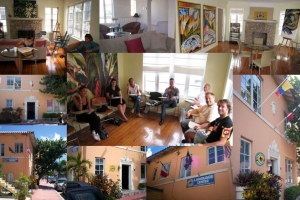 Our center is a charming 'Art Deco' style building, one block from the ocean, which has been featured on CSI Miami, El Clon, and Transporter 2.
We are located just one block from the beach at 227 9th Street, between Washington Avenue & Collins Avenue in South Beach, Miami Beach.
Our office hours are: Mondays to Thursdays 9am-5pm. Fridays 10am-2pm.
Free street parking weekdays, west of Washington Avenue (decals needed only at night) and public garage on 7th Street (between Washington & Collins).
Bring your bicycle inside the school or lock it next to the school.
Student Lounge for socializing and snacks. Outdoor terrace for relaxing. Computer room for students with English & TOEFL software.
View Larger Map 227 9th Street, Miami Beach.
Below are some video and written testimonials of students from different countries:
"I am so happy about my experience learning Spanish with South Beach Languages. I'm having so much more fun in Miami now that I can strike up conversations with people at the gym, in stores and on the beach. Liliana and Pelican (Spanish teachers) have been so skillful, friendly and encouraging. I have felt a big increase in fluency. "

Jane Rosen,

Chicago ~ Spanish private & group classes
"I love the small group English classes, which have prepared me for the TOEFL in just a few months"

Grecia Ortega,

Venezuela ~ Course: Advanced English & TOEFL Prep.
"It has really improved my Spanish. The teachers are great and the school feels like a family atmosphere"

Linda Green,

Miami ~ Course: Spanish Immersion
"Miami Beach is the best! I came here for vacation, but taking English classes was a great way to meet people and go back home with an English certificate"

Laura Legaite,

Germany ~ English Conversation
"The exchange program is a good opportunity to learn English. I meet my new friend in Starbucks every week for 2 hours. Thank you to South Beach Languages for organizing this"

Carolina,

Mexico ~ Course: English Beginner Level
"I stayed in their furnished apartment for 3 months. It was very safe, comfortable and just 1 block from the beach."

Luciano Silva,

Brazil ~ English Conversation
Teachers: Experienced, certified, dynamic native speakers trained to coach students through the learning process.
Academics: Student progress is measured through homework, weekly quizzes, written essays, verbal presentations and evaluations.
Learning Environment: Small groups, high-tech, multi-media classrooms, diverse mix of nationalities, ideal for interaction.
Location: Centrally located, one block from the beach, in an Art Deco building in world famous South Beach.
Prices: Compare our prices to other schools. Intensive (18 hours per week) English classes starting at $99/week.
Personal Attention: Offering customized assistance for your academic, housing and visa needs.
Experience Miami Beach
South Beach Languages offers free weekly events, such as: volleyball on the beach, karaoke nights, movie nights, museum and club passes, pizza parties and happy hours. As a local school with ties to the Miami Beach community, South Beach Languages loves to take part in community projects. South Beach Languages also offers organized tours/excursions for students.
Accommodations
South Beach Languages assists students with accommodation options as follow:
For students staying 1 to 3 weeks. Students can book directly with below hostels. Hostels average range: $20-35/night (for shared room & meals)
For students staying 1 to 8 weeks:
We can reserve a clean, safe, private room in a hotel, 1 block from the school, 1 block from the beach, with cable tv, air conditioning, private bathroom and a small study area.
Price: $350/week or $1200/month total for the room (2 students or couple can share).
Distance from Language Center: 2 blocks.

For long-term students staying 12 or more weeks:
We suggest renting a private apartment or sharing an apartment with other students.
There are many apartment options based on your budget and preferences.
After you register for classes, we can refer you to our Accommodations Coordinator for a list of current options.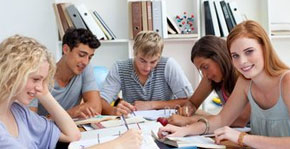 We offer 8 levels of English classes, plus College Prep, TOEFL Prep and Business English.  Our English classes are small groups taught by dynamic, experienced, American teachers.  There are part-time, vacation or intensive class options.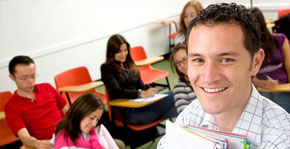 Our part-time Spanish program is ideal for locals, new arrivals and International visitors to Miami who want to improve their Spanish for work, travel or life in Miami. Spanish Classes are a mix of Spanish grammar, vocabulary, reading, writing, with a focus on conversation.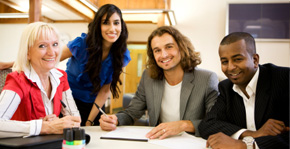 We provide private Spanish or English teachers in your South Florida location or in our South Beach center starting at $35/hour.  Our experienced, native-speaker teachers offer structured, yet customized programs, with flexible schedules.
Register Online
Register Today. Join our students from all over the world, here in Miami Beach.
Regardless of your nationality, age or schedule, come visit us in Miami Beach, and let our teachers take you to fluency!
Register Online