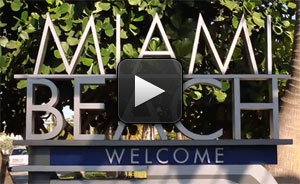 Need to improve your English???

Welcome to South Beach Languages, where we are dedicated to improving your English, 1 student at at time.
Our mission is to meet individual student needs by providing exceptional programs, instructors and activities within a unique, immersion environment.
Our language classes emphasize communication for academic, social and professional development.
South Beach Languages, created in 2003, is an accredited institution.  We are authorized by federal law to enroll nonimmigrant students in our Miami Beach & Hollywood, Florida locations.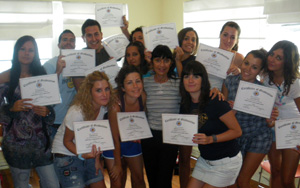 Our Communicative Language Teaching (CLT) emphasizes interaction and 'learning by doing' as the means and the goal of learning a language.With our CLT learning approach:
Students learn conversation, grammar, vocabulary and other skills through context.
Students learn by immersion, studying English with native English speakers.
Students must communicate with their teachers, classmates and staff using English Only.
Students participate in group activities that focus on English collaboration, critical thinking and creativity.
Teachers connect classroom learning with practical, real-life activities outside of the classroom.
Teachers leverage the latest online tools and technologies to accelerate student acquisition of English.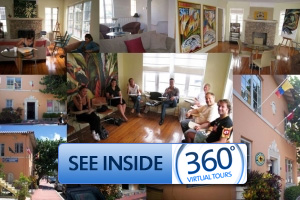 Our 'boutique' language school is a charming 'Art Deco' style building, one block from the ocean, which has been featured on CSI Miami, El Clon, and Transporter 2.
South Beach Languages is located just one block from the beach at 227 9th Street, between Washington Avenue & Collins Avenue in South Beach, Miami Beach.
Office hours: Mondays to Thursdays 9am-6:30pm. Fridays 10am-2pm.
Free street parking weekdays, west of Washington Avenue (decals needed only at night) and public garage on 7th Street (between Washington & Collins).
Bring your bicycle inside the school or lock it next to the school.
Student Lounge for socializing and snacks. Outdoor terrace for relaxing. Computer room for students with English & TOEFL software.
Teachers: Experienced, certified, dynamic native speakers trained to coach students through the learning process.
Academics: Student progress is measured through homework, weekly quizzes, written essays, verbal presentations and evaluations.
Learning Environment: Multi-media classrooms, diverse mix of nationalities, ideal for interaction and growth.
Location: Centrally located, one block from the beach, in a 2-story Art Deco Schoolhouse in world famous South Beach (See Inside).
Prices: Intensive (18 hours per week) English classes starting at $99/week.
Personal Attention: Offering customized assistance for your academic, housing and visa needs.
Experience Miami Beach
Free Daily Activities:  Mondays: Donuts & Snacks. Tuesdays: Sports. Wednesdays: Bingo with prizes!  Thursdays: English-speaking activities, such as guest speakers, beach volleyball, karaoke, local museum visits or pizza parties.  Fridays: English Conversation practice
Miami Beach Events: As a local school with ties to the Miami Beach community for over 12 years, our students take part in community projects, such as Art Basel, Sobe Wine & Food Festival, the Miami Film Festival and environmental events.
Excursions: We work with tour companies that provide student excursions, such as trips to Orlando, Key West, the Everglades & the Bahamas.
Accommodations
South Beach Languages can assist with the following accommodation options:
Ideal for students staying 1 to 3 weeks, hostels average from $20-40/night (for shared room & meals). Please see our Accommodations page for a list of area hostels.
Ideal for students staying 1 to 8 weeks, there are hundreds of hotel options in Miami Beach.  Hotel prices vary, based on season, availability and quality.  Please see our Accommodations page for a list of area hotels.
Ideal for long-term students staying 12 or more weeks, you can rent your own private studio or share an apartment with other International students. There are various apartment options based on your budget and preferences.  Our Accommodations Coordinator can assist you with a list of local realtors and current options.
Homestays are also available. Please see our Accommodations page for details.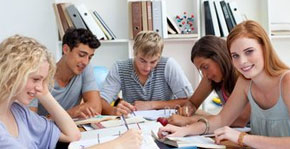 We offer 8 levels of English classes, plus College Prep, TOEFL Prep, Accent Reduction and Business English.  Our English classes are small groups taught by dynamic, experienced, American teachers.  There are part-time, vacation or intensive class options. Learn More >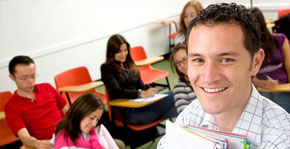 Our part-time Spanish program is ideal for locals, new arrivals and International visitors who want to improve their Spanish for work, travel or life in Miami. Spanish Classes are a mix of Spanish grammar, vocabulary, reading, writing, with a focus on conversation. Learn More >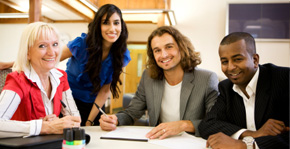 We provide private Spanish or English teachers in your South Florida location or in our South Beach center starting at $45/hour.  Our experienced, native-speaker teachers offer structured, yet customized programs, with flexible schedules. Learn More >