SBL offers 8 levels of English classes & College Prep, TOEFL Prep, Accent Reduction and Business English.  We follow the 'Communicative Method', emphasizing English immersion, interaction and practical usage.  Classes are taught by experienced, certified American teachers.  Many graduates of our English program continue their studies at national and local Universities.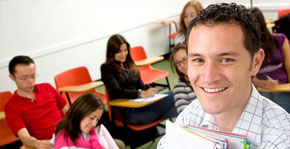 New students can join English classes on Mondays.
Placement tests are given on the first day to determine student level.  Certificates are given upon completion.
The 'Intensive' & 'English Vacation' programs include 2 classes, General English and Conversation.
General English focuses on grammar, writing and speaking.
Conversation stresses speaking, accent reduction, pronunciation and vocabulary.
Conversation classes include diverse rotating 'Guest speakers' from the Miami community.
Non-paid internships (in the local Miami area) may be available to qualifying long-term students.
The computer room is available for students. Free donuts & English-only activities on Thursdays.
F1 visa students are required to attend Intensive classes (18 hours per week).
For tourists, we offer 'English Vacation' classes (15.5 hours per week).  These are ideal for tourists that want to improve their English.  Note: US guidelines indicate tourists should study less than 18 hours/week. 
Our school is open all year (with a short Holiday and Summer break for F1 students).
English Program
Schedule
Hours per Week
Price per Week
1-3 Weeks
4-10 Weeks
12-22 Weeks
24-46 Weeks
48 Weeks
INTENSIVE ENGLISH
Morning
9am-1:30pm or 11:30am-4pm
18
$180
$155
$145
$125
Afternoon
2pm-6:30pm or 4:30pm-9pm
18
$140
$130
$120
$99
ENGLISH VACATION
Morning
Mon/Tue/Wed 9am-1:30pm, Thur 9-11am
15.5
$199
$175
$145
$130
$120
Afternoon
Mon/Tue/Wed 2-6:30pm, Thur 2-4pm
15.5
$175
$135
$125
$115
$105
PART-TIME ENGLISH
Morning or Afternoon
9-11am or 11:30am-1:30pm or 2-4pm or 4:30-6:30 or 7-9pm
8
$140
$110
$90
$80
$75
BUSINESS ENGLISH
11:30am-4pm or 2-6:30pm
18
$199
$180
$155
$145
$125
TOEFL PREPARATION
9am-1:30pm
18
$225
$199
$180
$160
$140
SUPER INTENSIVE ENGLISH
Morning or Afternoon
9am-4pm or 11:30am-6:30pm
28
$250
$225
$200
$180
$160
New Classes start any Monday after January 5, 2015
Register Online
Register Today. Join students from all over the world, here in Miami Beach.
Regardless of your nationality, age or schedule, come visit us and let our teachers take you to fluency!
Register Online